Lavendula Refillable Pocket Sanitizer
Refillable Container: Our flagship pocket sprayer is now easy to refill. Designed to pair with our refill pouches.
---
Natural Scent: Floral, sweet and slightly spicy blend of natural essential oils including Rich Provence Lavender and Spicy Cardamom.
---
Hydrating Formula: Nourishing sanitizer blended with 70% pharma-grade ethyl alcohol distilled from organic cane sugar alongside a conditioning blend of Aloe, Rosa Canina, Jojoba and Argan to soothe, moisturize and protect skin. Noshinku sanitizer is an FDA-Registered and Compliant Formula.
---
More Information: Contains approximately 270 sprays. Use as often as needed.  
---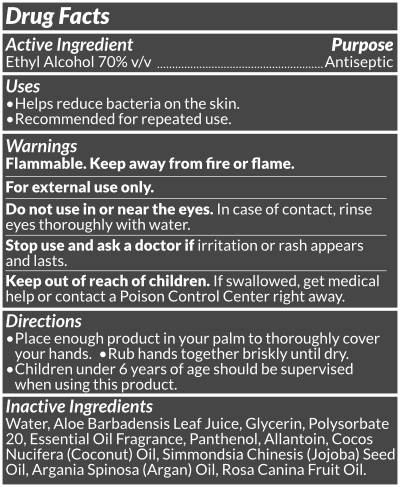 SYNTHETIC FRAGRANCES
CHEMICAL CLEANERS
PARABENS
PHTHALATES
BENZENE
METHANOL
SILICONES
TRICLOSAN
BENZALKONIUM CHLORIDE
Organic Provence Lavender complemented by notes of Cardamom and Lavandin for a floral, sweet and slightly spicy finish.

---
Top Note:
Calming Provence Lavender

Middle Note:
Rich Lavandin

Bottom Note:
Warm Cardamom

Your Noshinku products are refillable and designed to pair with any Noshinku eco-refill pouches. Re-use your favorite Noshinku containers and, when you're ready, recycle with Terracycle.

---
Design to pair with all Noshinku refill eco-refill pouches.
Reduce plastic waste by over 80%.

Reuse and then recycle with Terracycle.
Pure and effective ingredients you can pronounce without harmful chemicals, additives or fillers.

---
Clean
Organic Sugarcane Alcohol (70%) gently cleans skin.

Soothe
Aloe Vera Water soothes skin.

Moisturize
Jojoba oil intensively moisturizes skin.
Repair
Rosa Canina regenerates skin.
Protect
Argan oil provides a natural barrier for skin.